History and Origin of the Sousaphone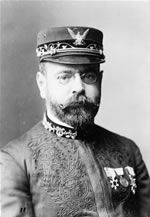 Contrary to popular belief, the Sousaphone was not invented by John Philip Sousa himself, but by J. W. Pepper - a Philadelphia instrument maker (who created the instrument in 1893 at Mr. Sousa's request and using several of his suggestions in its design.
Up until the 1890's, the instrument closest to the modern day sousaphone was the helicon - similar in shape, but with a smaller bore and a much smaller bell, which was pointed upwards and slightly to the player's left. This bell was permanently attached to the rest of the instrument and couldn't be moved. Sousa felt that a wider, upwards-facing adjustable bell and a larger bore would produce a warmer tone (more like that of the concert tuba) and allow the instrument to better project its sound over the rest of the concert band while still being easy to hold and play like the helicon.
Ironically, Sousa came to prefer the sousaphone produced by the C. G. Conn company in the late 1890's to the original sousaphone he helped to invent. The founding company, J. W. Pepper and Son (est. 1876), still exists today— no longer as an band instrument manufacturer, but as a retailer of sheet music. Sousa remained highly enthusiastic about the sousaphone, once predicting that some day every household would have one - just like a piano!
Sousaphones with a forward-facing bell were first produced by Conn in 1908 and remain the standard to this day. The average size of the bell has also gotten wider over the years - growing from a mere 22" in diameter to the present-day 26" standard.
Originally a concert instrument, the traditional sheet brass sousaphone can be rather heavy for marchers. In the 1960's, the first fiberglass sousaphones went into production and quickly became popular for school marching bands due to their lower cost and lighter weight. However, brass sousaphones produce a sound which is far superior and are the variety of choice for concert instruments and serious sousaphone players.
Pepper's first sousaphone still exists - it is covered in elaborate engraving, including a freehand portrait of J.P. Sousa which is engraved on the bell.